West Cork Irish Whiskey Bestsellers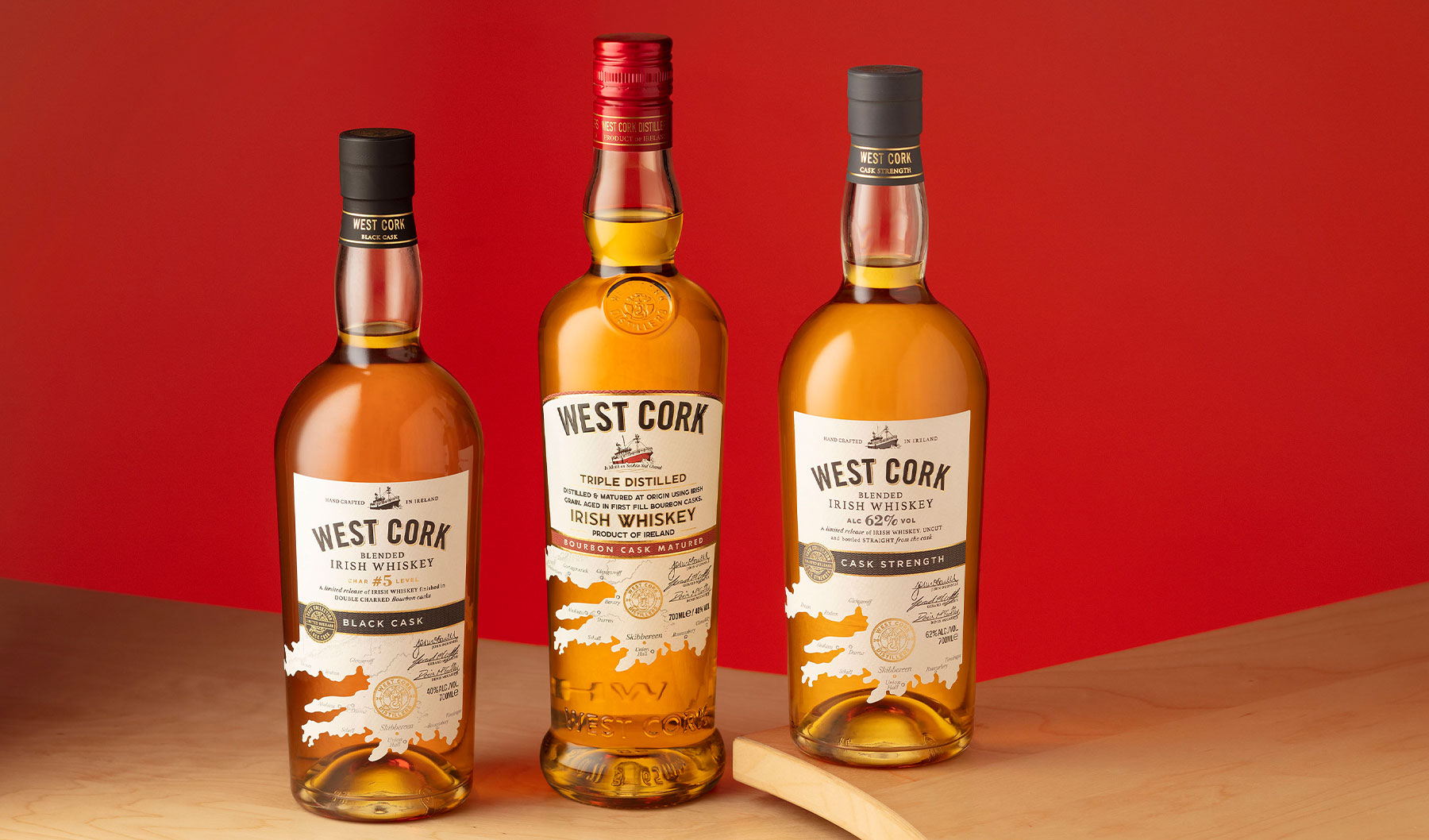 West Cork Classic Blends
West Cork Classic Blends range consists of Bourbon Cask, Black Cask and Cask Strength Irish Whiskey, matured and aged in bourbon casks. Each bottle of West Cork Irish Whiskey is triple distilled, non-chill filtered, matured and bottled onsite and carefully crafted using the finest of local ingredients.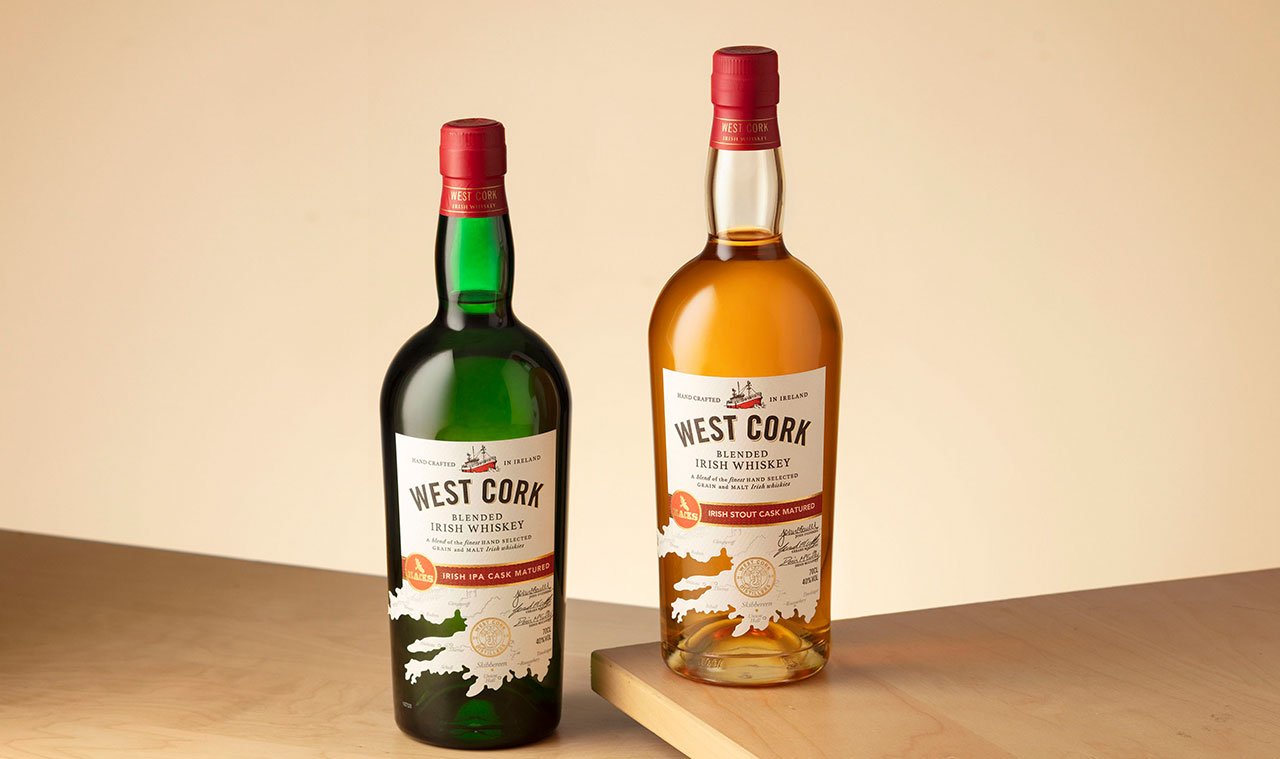 Beer Series
The beer series at West Cork Irish Whiskey consists of the West Cork IPA Cask and Irish Stout Cask Matured Blended Irish Whiskey. Both whiskeys are blended with grain and malt, aged in first fill bourbon casks and finished in casks that held Blacks of Kinsale IPA or Blacks of Kinsale Stout.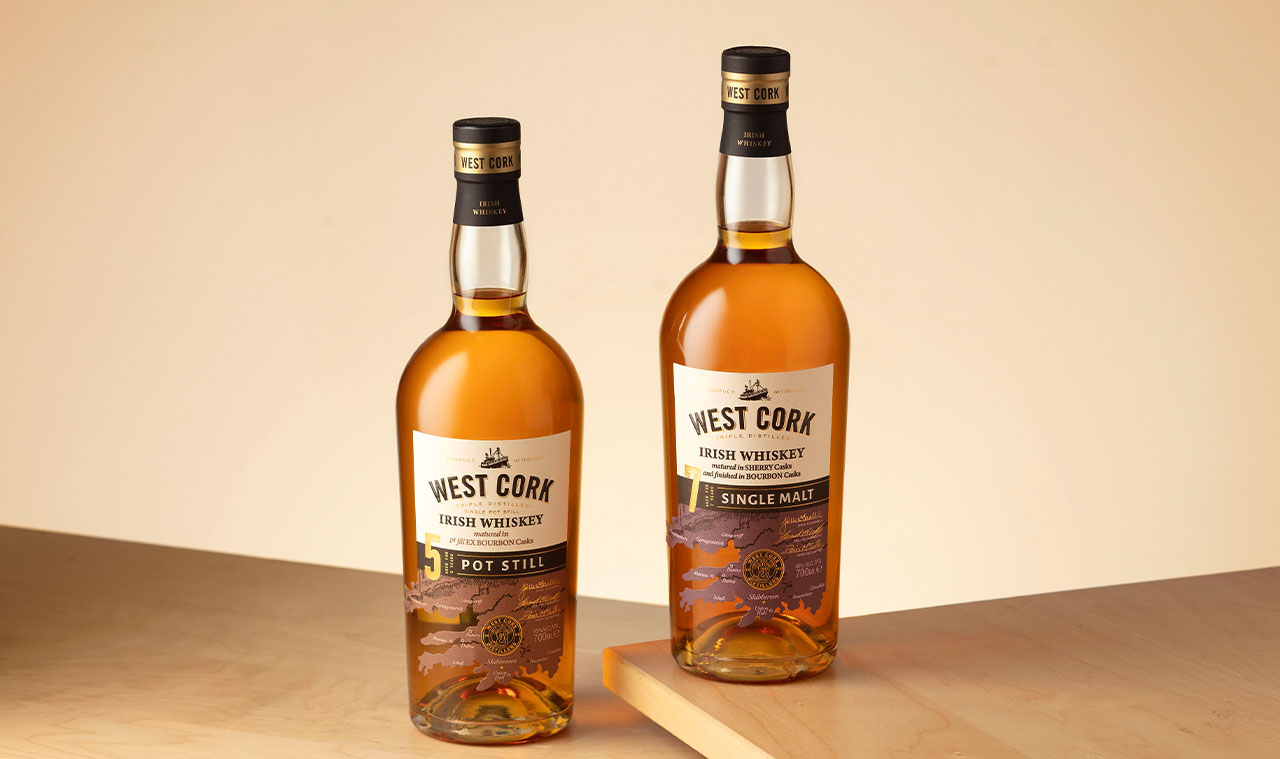 Aged Releases
Celebrating true innovation in Irish Whiskey, the aged releases range consists of a 5 Year Old Single Pot Still Whiskey and a 7 Year Old Single Malt Irish Whiskey.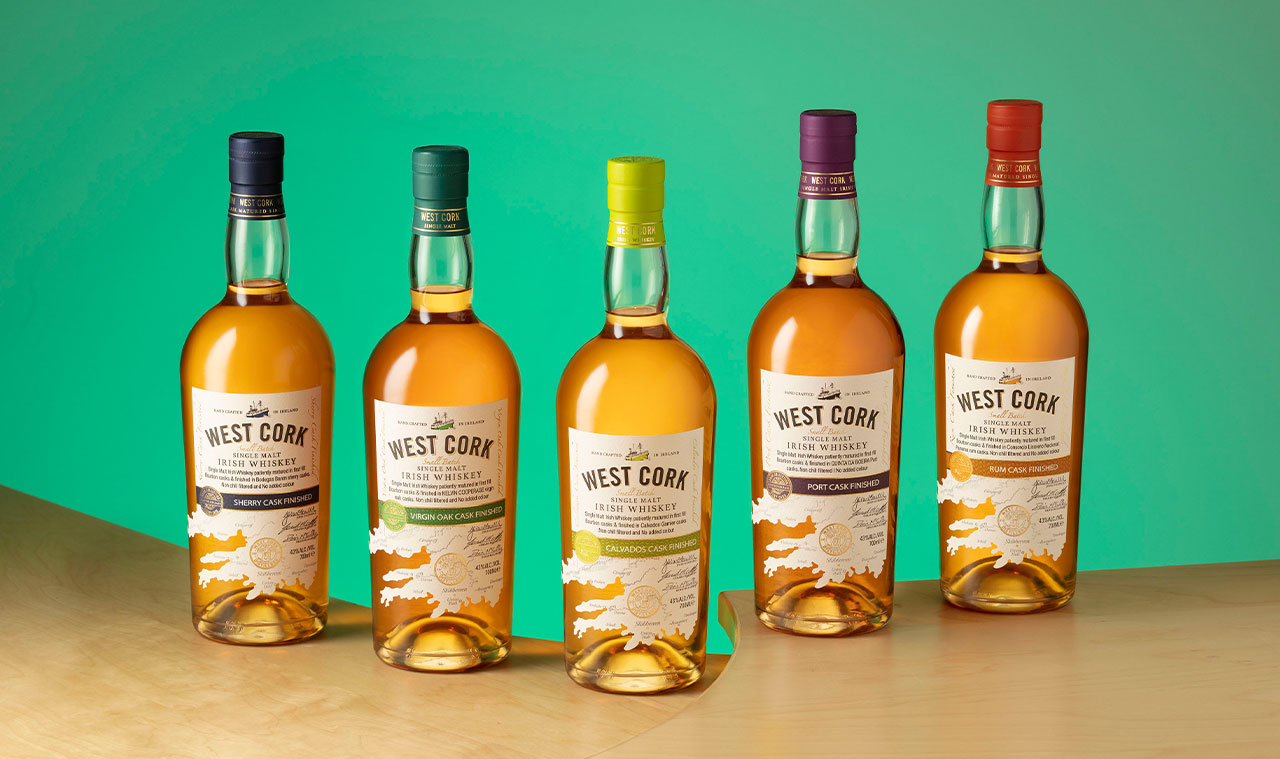 Single Malt Cask Finishes
The West Cork Cask Finishes is a collection of triple distilled single malt Irish whiskeys. Each whiskey has been aged in first-fill bourbon casks and then finished in casks selected from the finest fortified wines and spirits.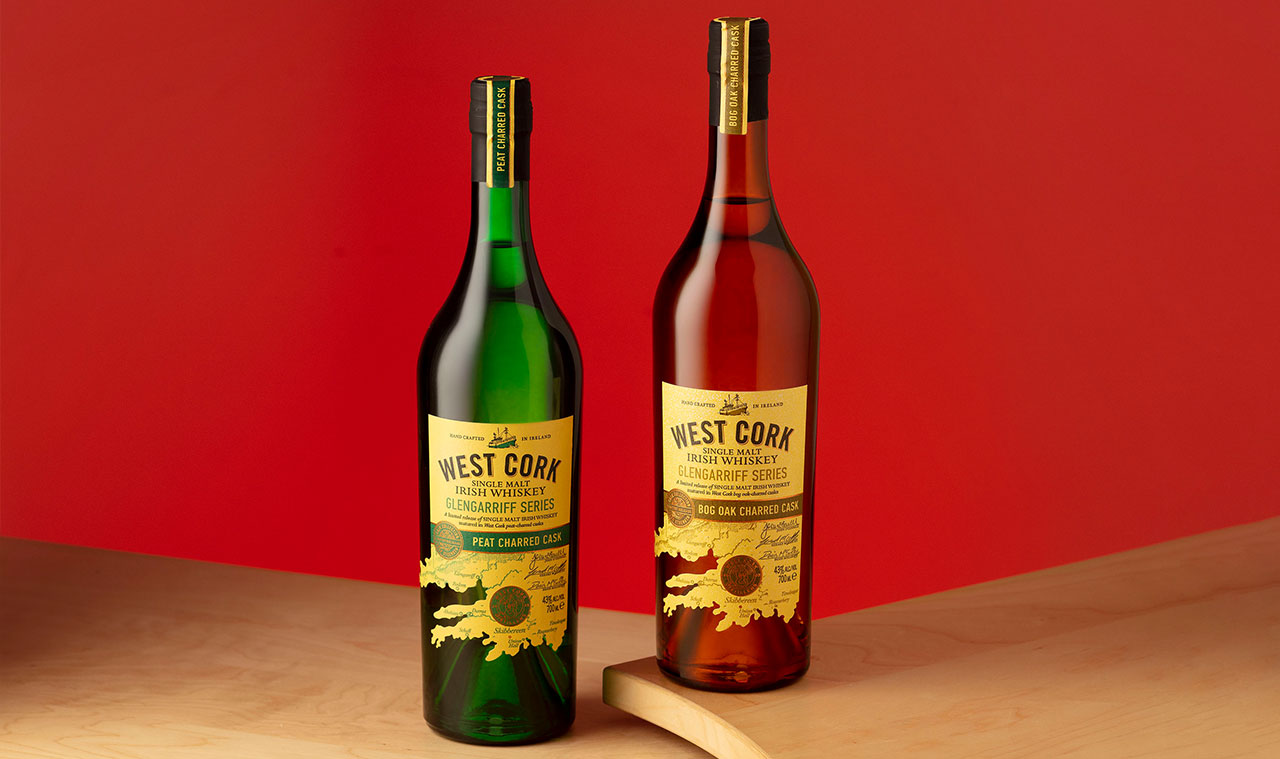 Glengarriff Series
The Glengarriff Series consists of the Peat Charred Cask Finish and the Bog Oak Charred Cask Finish. These triple distilled single malt Irish whiskeys are matured in sherry casks before being treated to a finishing period in peat charred casks and bog oak charred casks.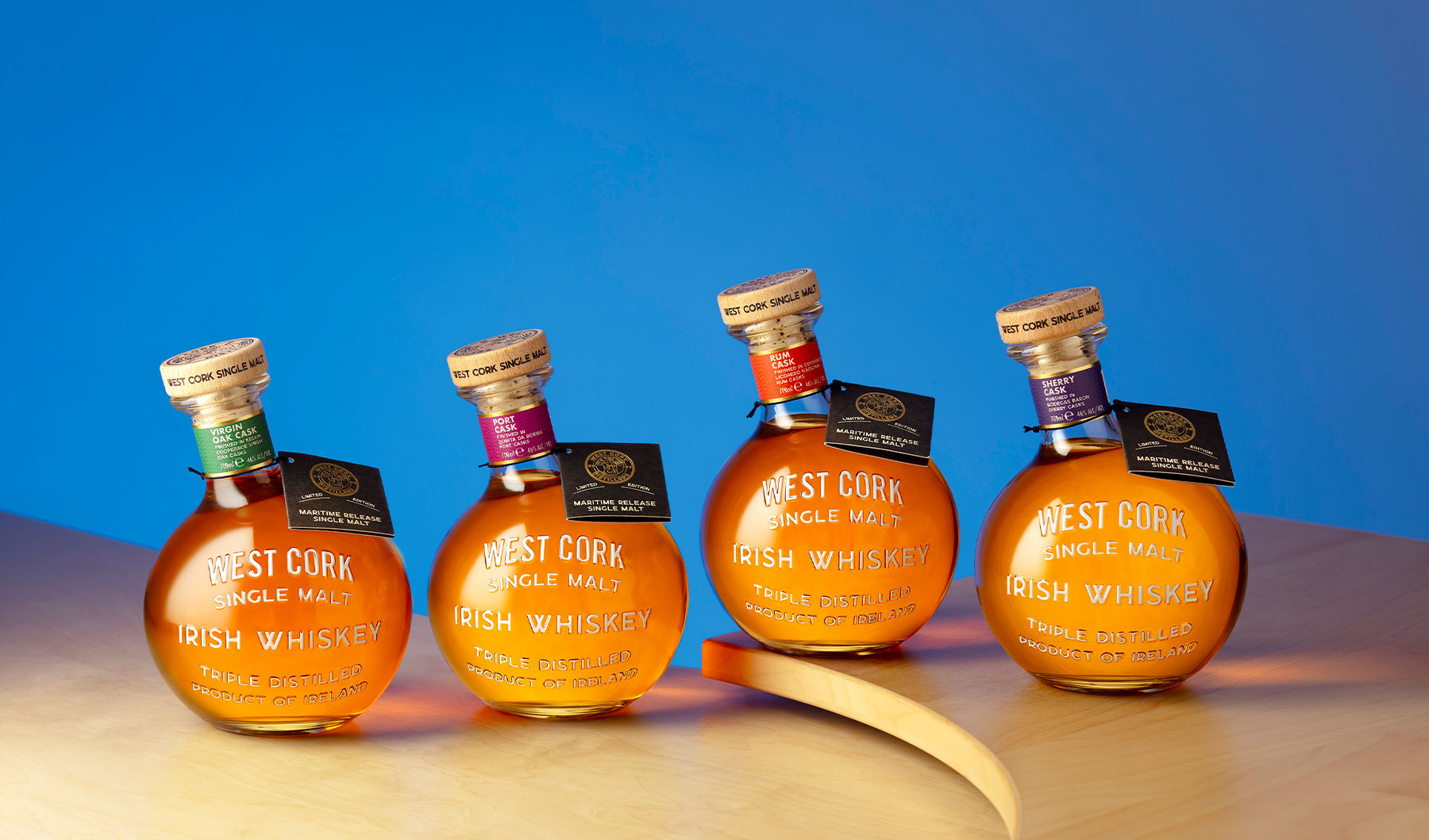 Maritime Range
Presented in a bespoke Maritime shaped bottle, this unique maritime Irish Whiskey range is inspired by the founders and background of West Cork Irish Whiskey. The Maritime range bottle is a masterfully crafted custom-blown spherical bottle with an off centre spout to aid a smoother pour of whiskey. The range comprises rum cask, port cask, sherry cask and virgin oak cask single malt Irish whiskey.
The home of West Cork Irish Whiskey
With curiosity, hard work and a bit of nonsense, we bring you great tasting whiskeys from our home in Skibbereen. Visit our 12.5 acre distillery to find out more about the history of West Cork Irish Whiskey and if you're lucky, maybe you'll get a taste of the good stuff.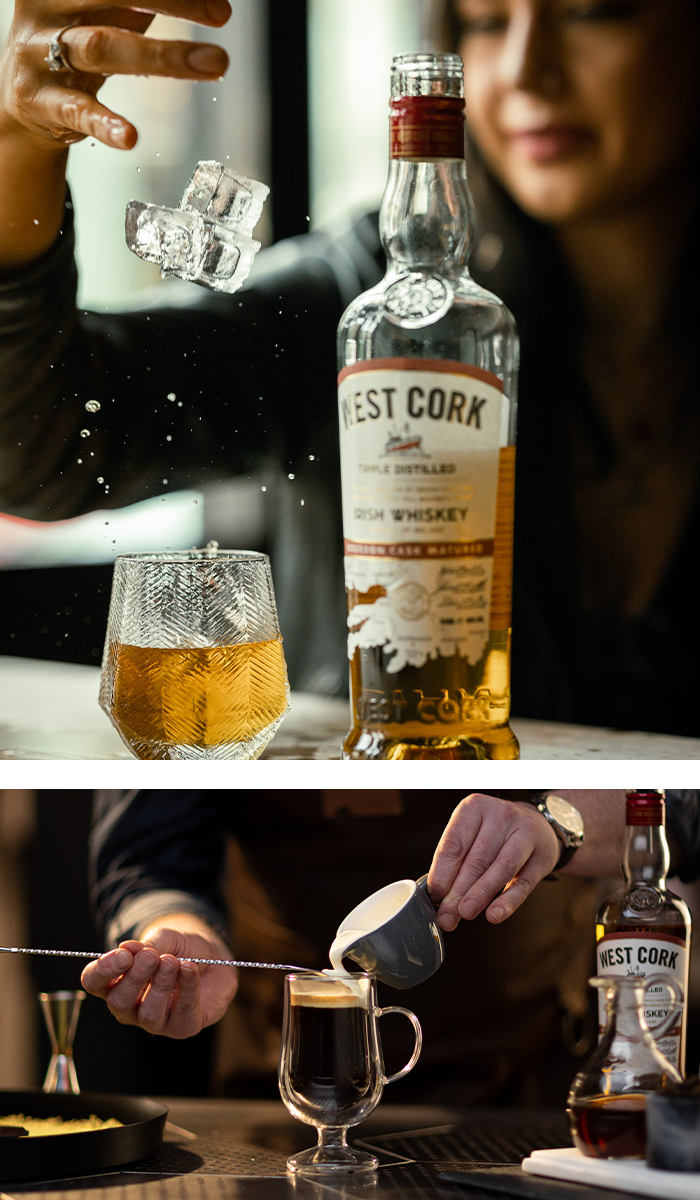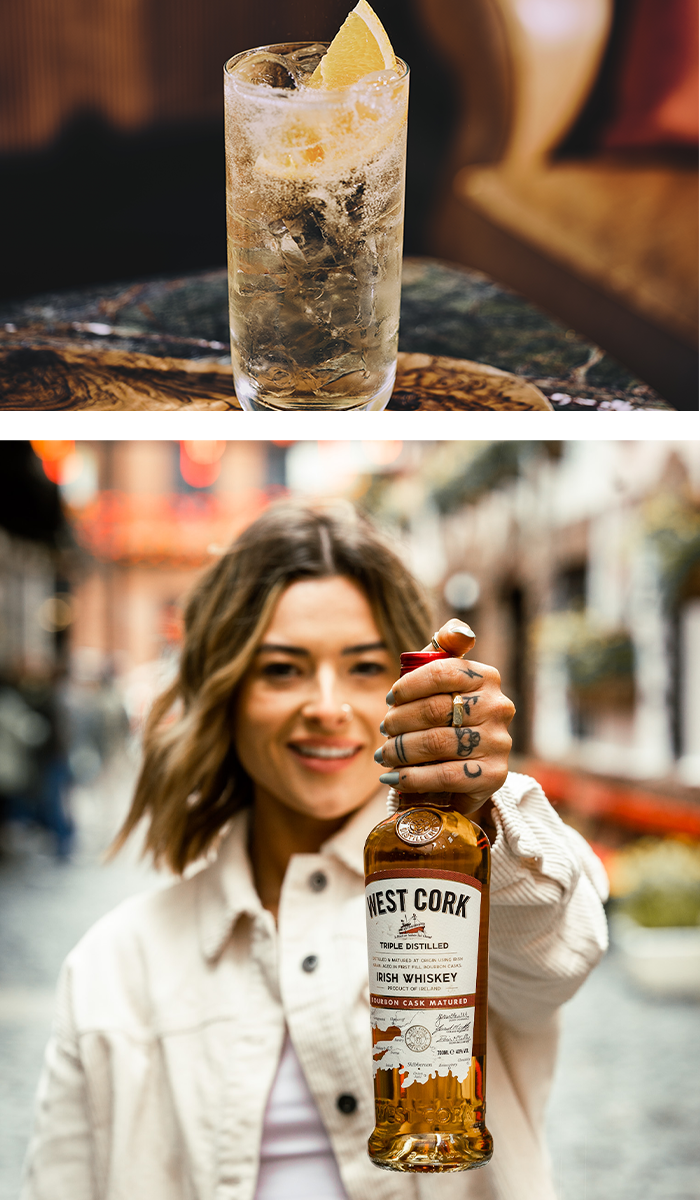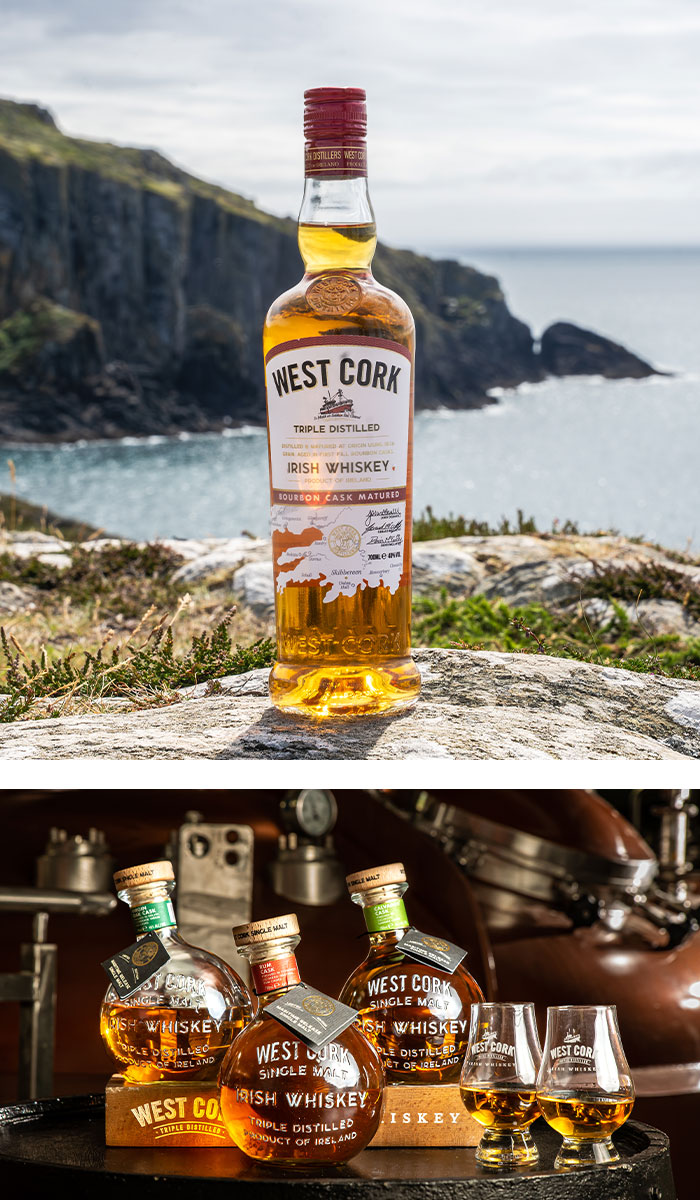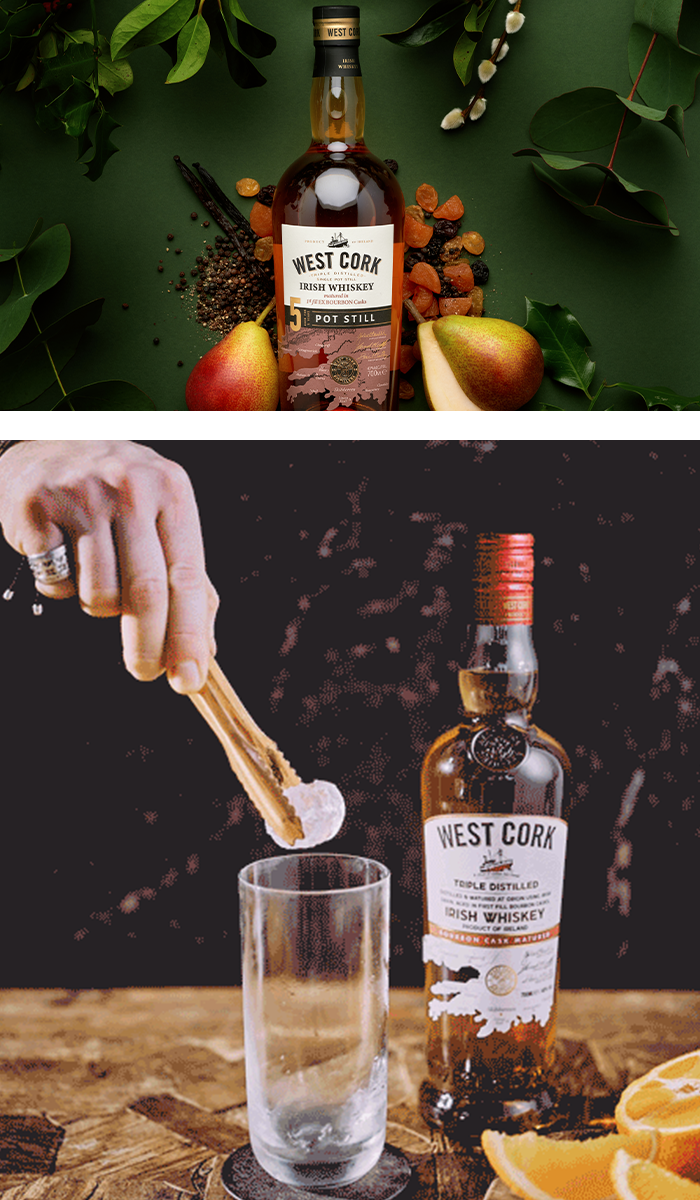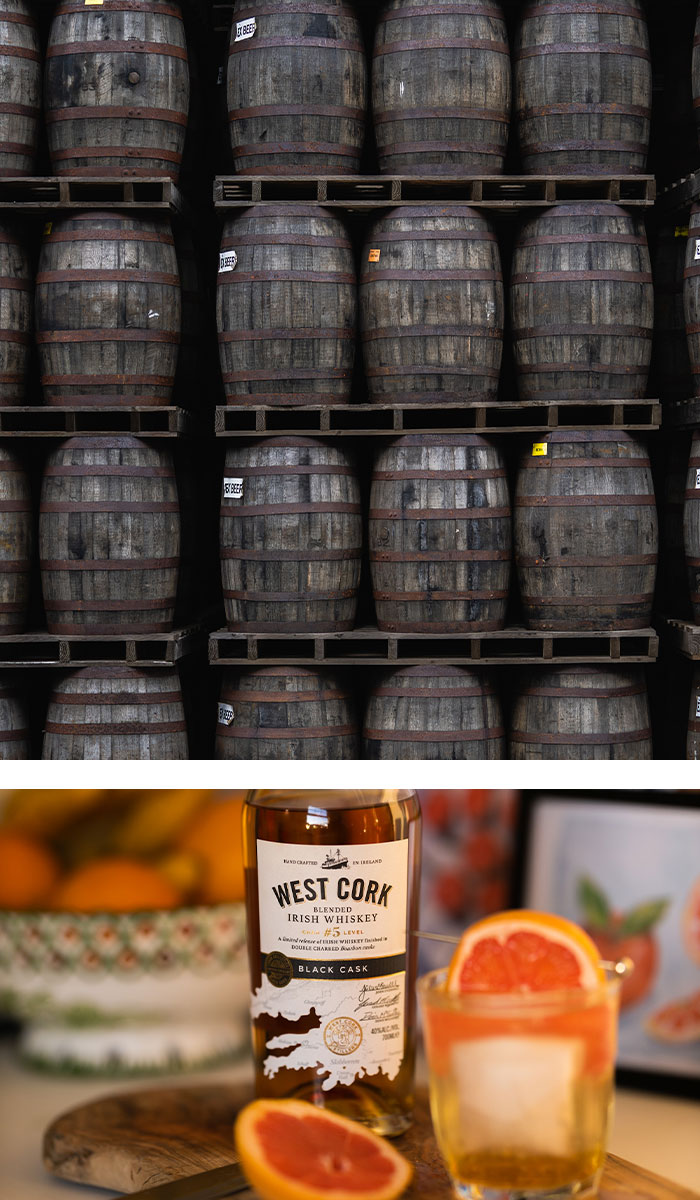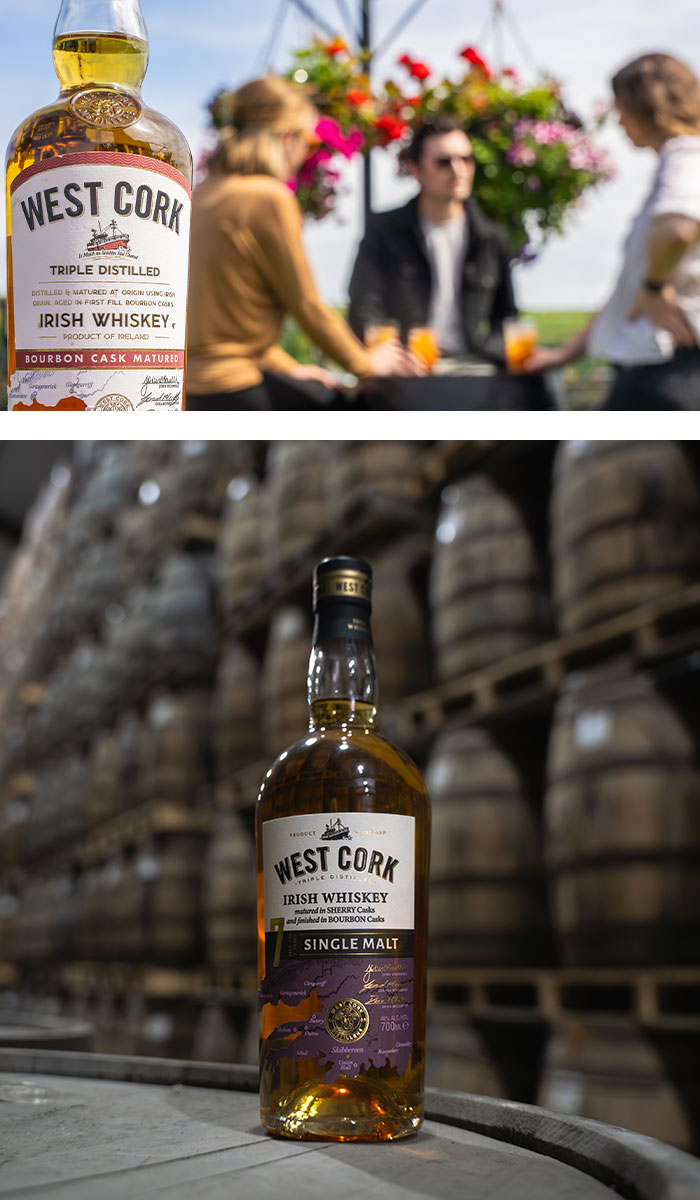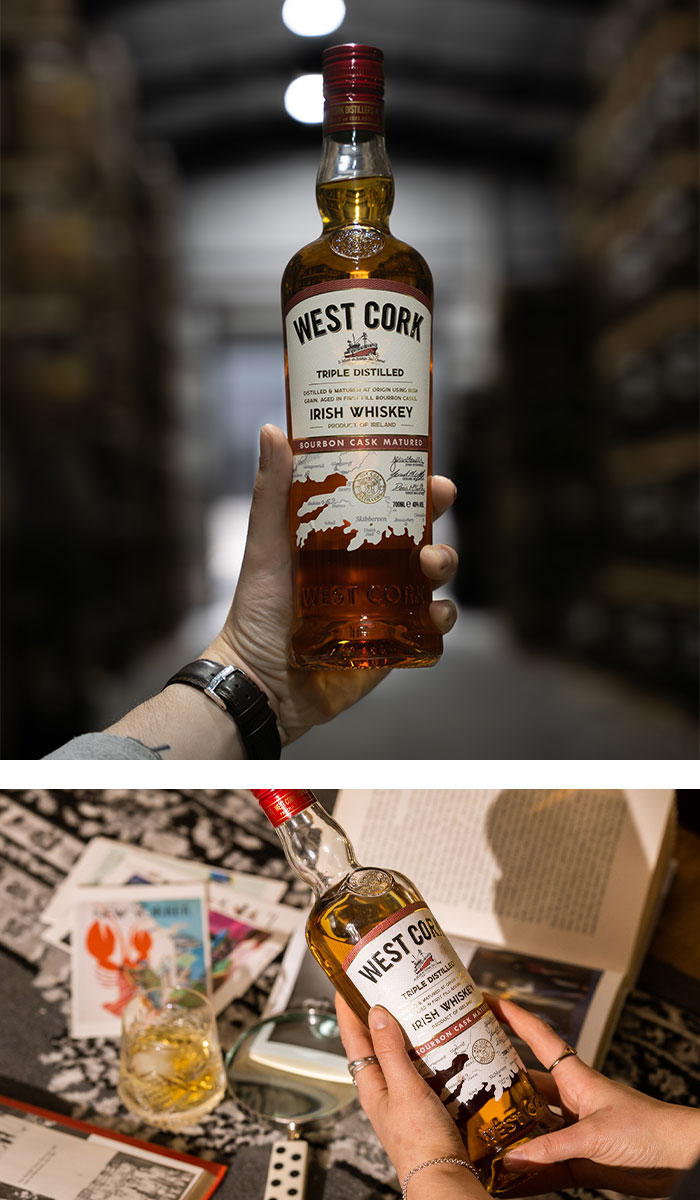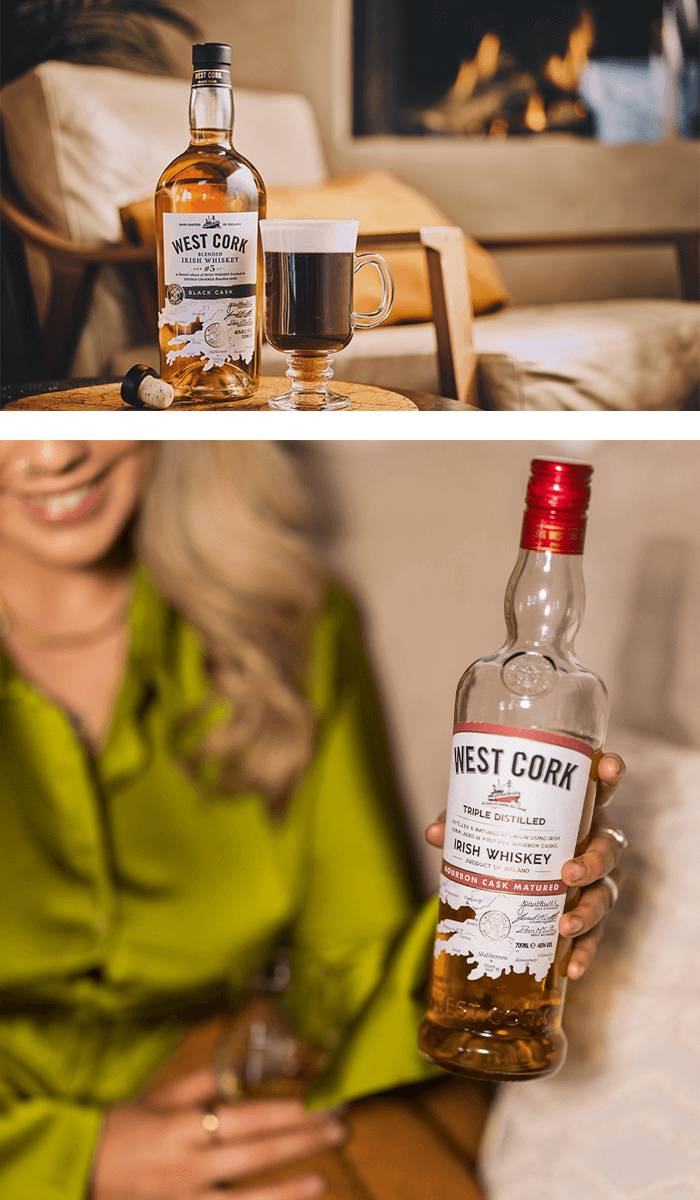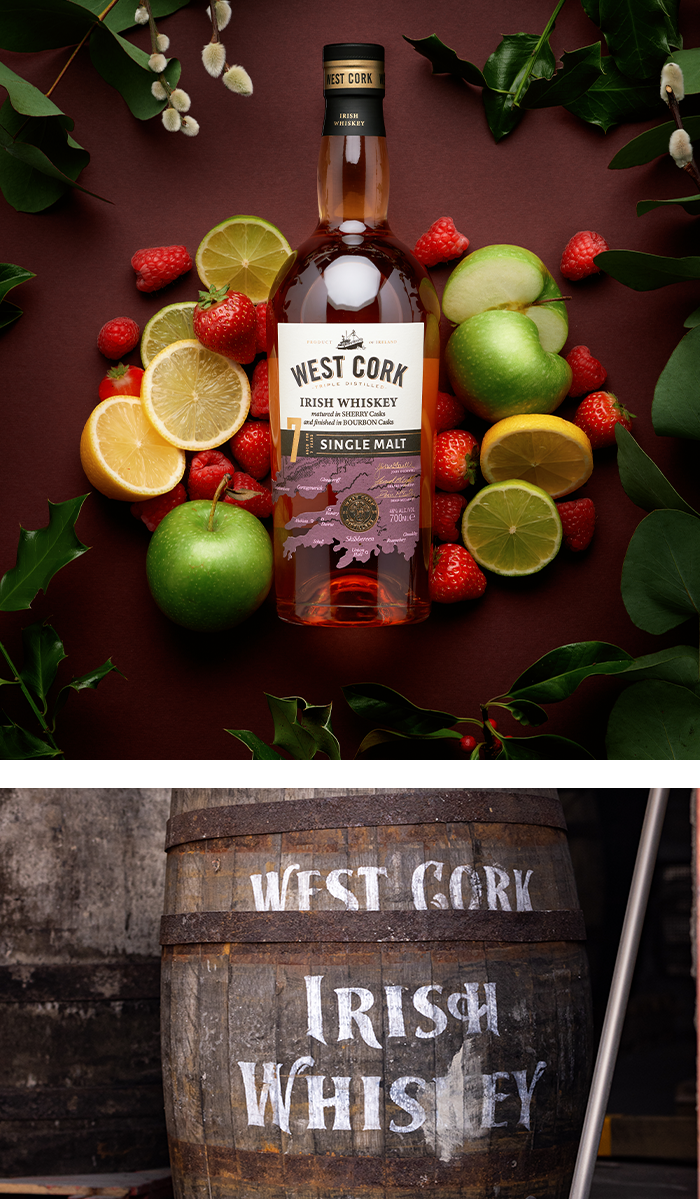 Whiskey Cocktails
At West Cork Whiskey, we harness new ideas and cultivate the most innovative techniques. But let's not get too flashy. We're all about the fundamentals when it comes to cocktail making. Classic flavours, the best ingredients and exceptional balance.
Best served chilled, and in good company.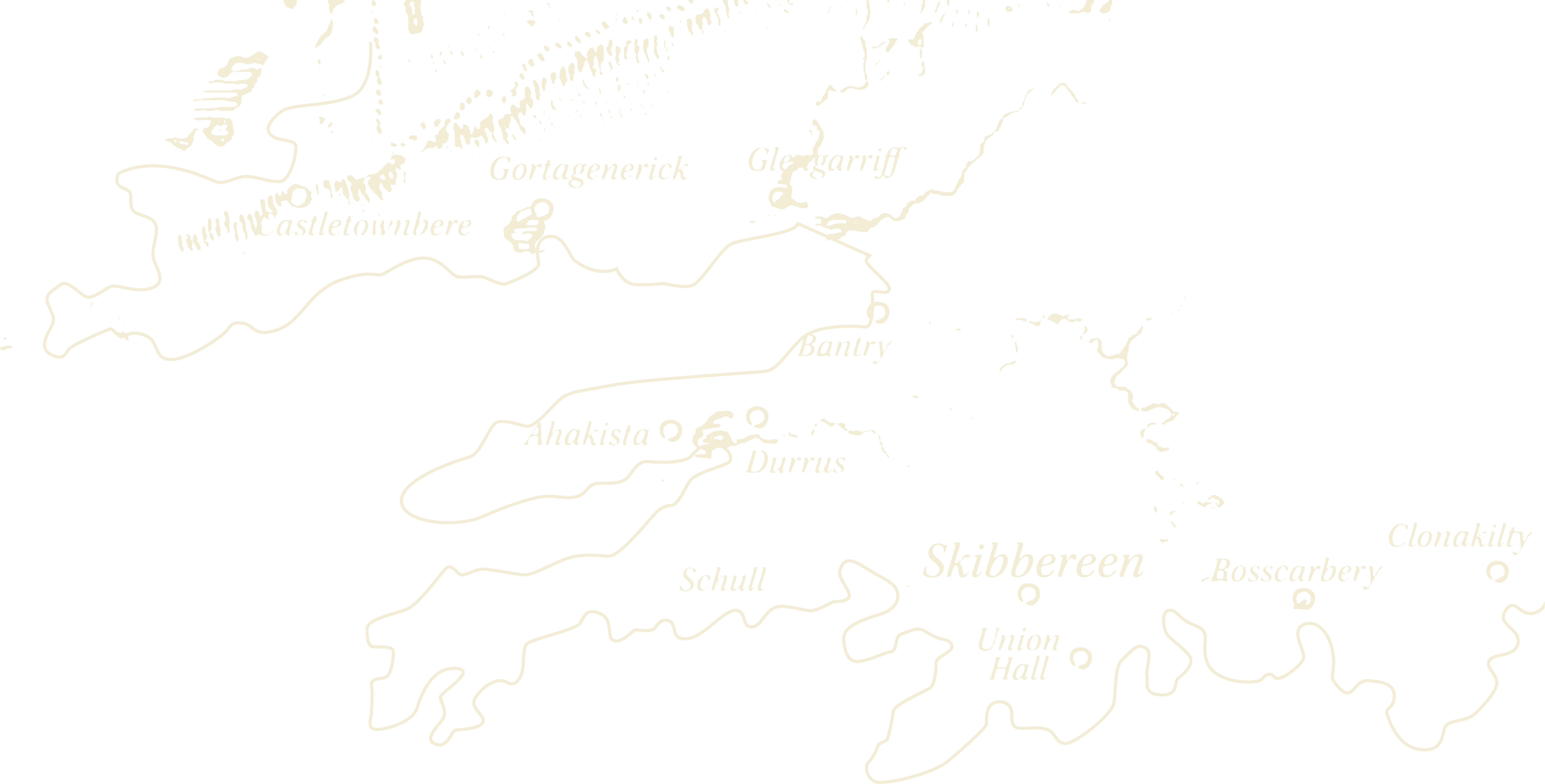 Our Distillery
West Cork Whiskey is a product of the largest independently owned distillery on the island of Ireland. Our distillery was established in 2003 by three childhood friends with a passion for high quality products and challenging tradition. In 2019, we began operating from our home on Marsh Road, a site with a distillation capacity for 8 million litres of pure uisce beatha.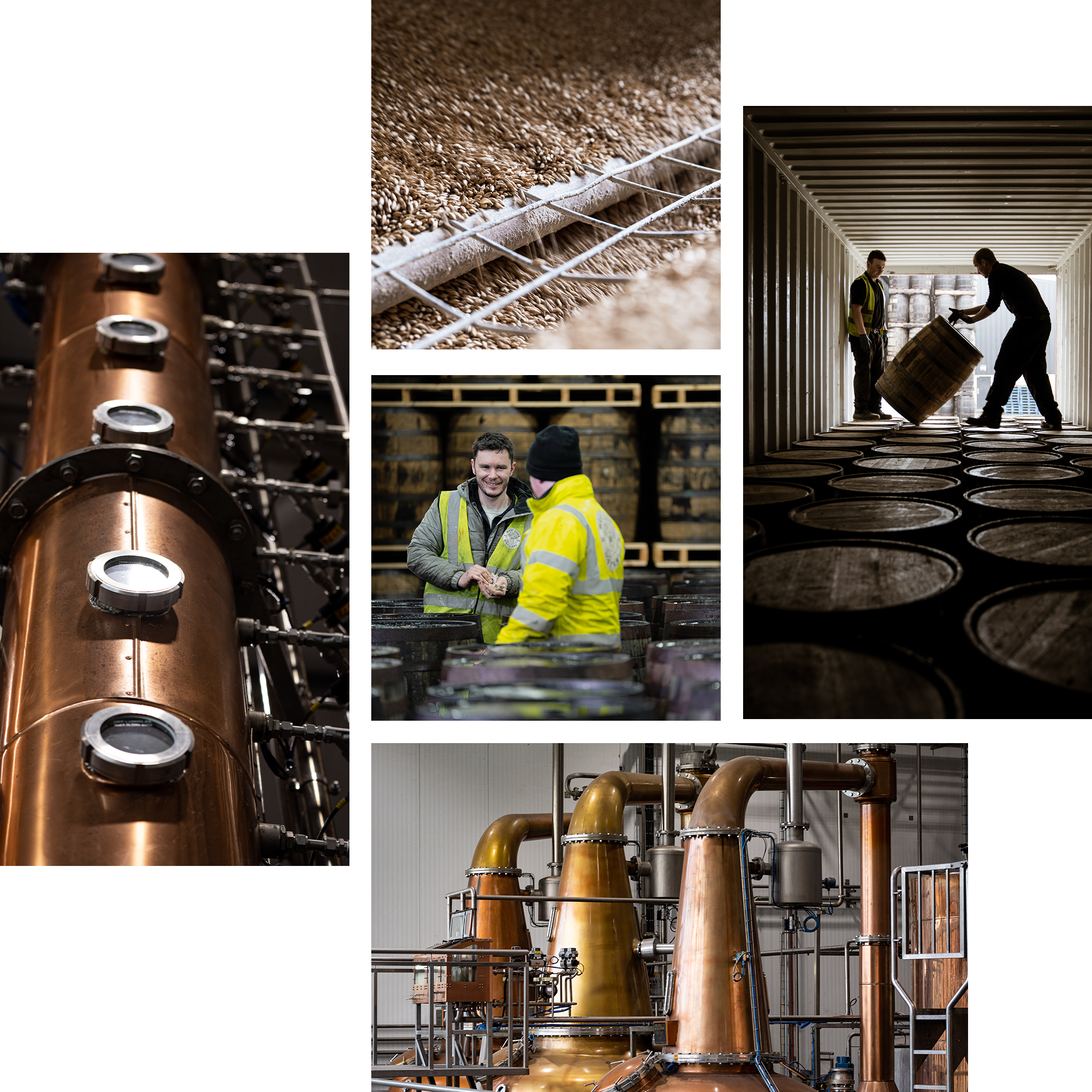 Casked Conversations
At West Cork Irish Whiskey, we're all about the human experience. Join us in our Casked Conversations as we connect with Skibbereen locals and whiskey fans from far and wide, to discover how they find joy and forge new connections in the most unique places.
Find out more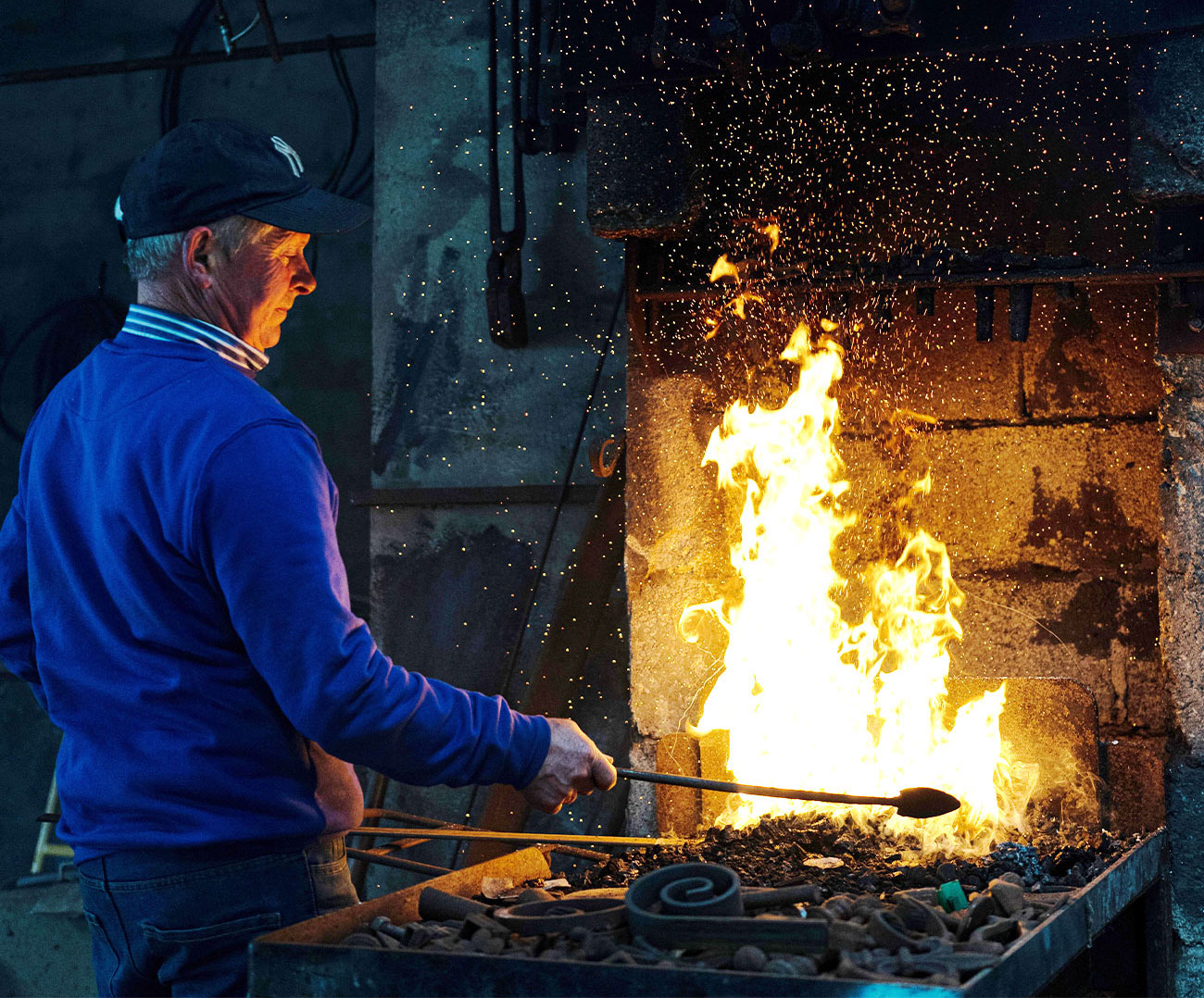 Next steps to sustainability
Irish people have a long standing affinity with nature and the world around us. At West Cork Whiskey, we're dedicated to reducing our environmental impact, tackling climate change with innovation and embracing sustainability in everything we do. Discover just how important sustainable alcohol production is and how we implement it in our whiskey production.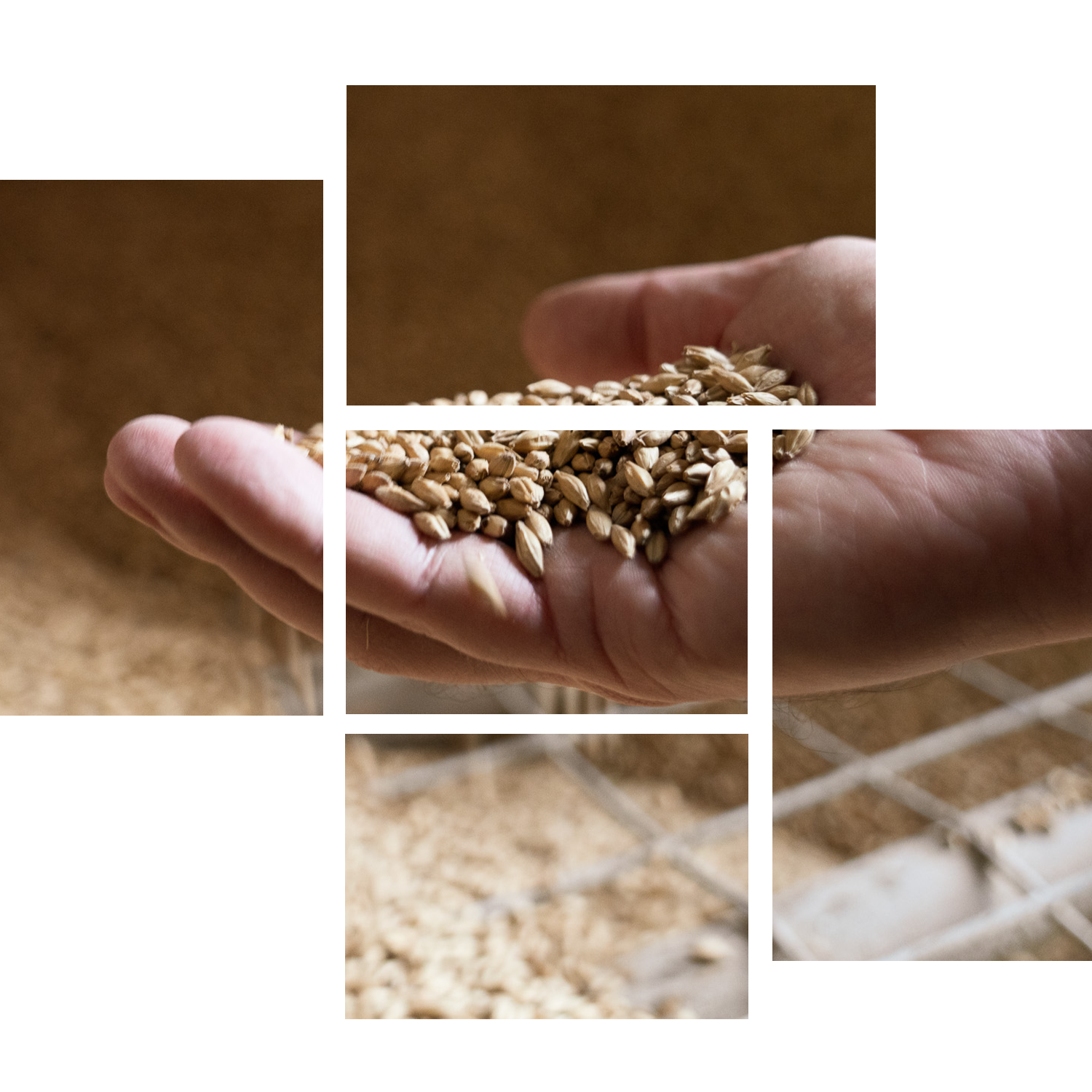 Whiskey Awards